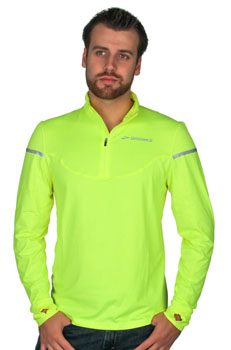 Brooks Running Men's Nightlife Essential Half Zip Top. Made of fast-drying, heavy duty wicking yet breathable fabric, the Essential 1/2 Zip performs as a single layer or teams up nicely for more extreme conditions. 3 seasons of coverage and protection form the elements make it a staple for your workout gear. Available in Nightlife Yellow with contrast panels under arm and on the back of the arm, and has 3M™ ScotchLite Brooks logo to make sure every runner is visible.
Features:
Running top suitable for all year round
Soft, structured super-wicking fabric
Thumbholes
Back Zip Pocket
Suitable as first layer
Waterproof mp3 pocket
Fabric: Be Warm (40° to 65°) Vapor-Dry Plus (94% moisture-transfer polyester/6% spandex)
Fit: Semi-fitted
Need help with sizing? Go to Brooks size chart.
One year warranty against defects in materials and workmanship. Warranty does not cover normal wear and tear.