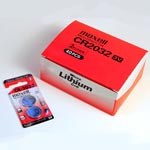 Bulk Quantities
PLEASE NOTE: Lithium Batteries need to be shipped by ground, so orders may be shipped in 2 boxes if ordered with items that can ship by Air.
Long lasting Maxwell Batteries!
The most common product which uses this battery is our Adventure Lights Guardian Light which uses one pack of two CR-2032 lithium battery cells.
These 3 volt lithium cell batteries are made by Hitachi Maxell - made in Japan.
You are buying ONE card with TWO CR-2032 batteries on it.