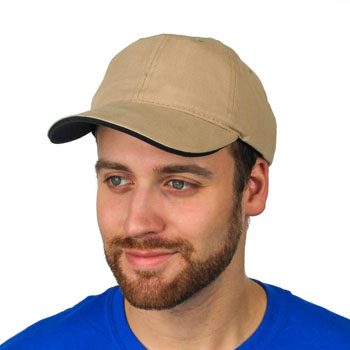 The Panther Vision 4 LED PowerCap Khaki 2575 is a durable but soft cotton twill hat with four ultra-bright LEDs concealed under the brim that give you the power to see in the dark. Two lights are angled downward to focus on your hands and feet without glare and two lights are angled forward for distance lighting. Quality construction and long lasting light these caps will hold on forever.
Features:
Twice as bright as any other lighted cap on the market; approximately 100,000 hours of bulb life
Multifunction switch under the brim lets you use just the low beams, just the high beams, or all four lights together. The switch was designed to last for 50,000 on/off cycles.
Up to 75 hours of continuous battery life with the included CR-2032 lithium coin cell batteries
One size fits most with adjustable Velcro Closure on backside
Every cap comes with a limited lifetime warranty from Panther Vision. If your cap ever fails due to a defect in workmanship, return it to the manufacturer for replacement
Built for everyone that needs hands-free light:
Fishermen
Delivery Persons
Hunters
Truck Drivers
Hobbyist
Outdoor Cooking
Campers
Law Enforcement
Electricians
Pet Walking
Plumbers
Home Repair
Auto Repair
Runners & Walkers
Military
Service Workers
Computer Repairs
Electronics Installers
Security Personnel
And so many others…
One year warranty against defects in materials and workmanship.Warranty does not cover normal wear and tear.