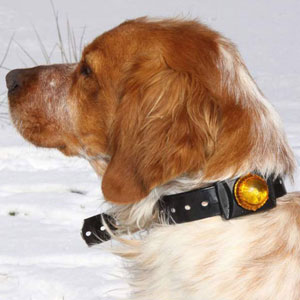 The Guardian Trident Dog Light incorporates a durable base allowing for secure attachment to collars, straps, webbing, molle, belts or a variety of other applications. The unique slot opening can accomodate up to 1.5" in one orientation and 1" in the opposite direction. Ideal for Pet collars, life-jackets, backpacks, etc... and is compatible with all 1" tracking collars as well as the Tracker Flash hunting lights! It also works as a safety beacon that allows you to be seen from over a mile away.
The Guardian base and lens are extremely high impact resistant and the ultra bright LED. The Guardian is waterproof to a depth of 328 feet (100 meters) and will work flawlessly in conditions from -0F to 140F (-20C to 65C). This light is extremely versatile and a variety of handy options are available that can be used to attach The Guardian to almost anything.
Click here to view all Adventure Light Accessories.
Specifications:
Visibility: 180 degrees arc of emitted light
Triple function: Flashing, steady on and warning strobe modes
Appox Size: 1.4" x 1.8"
Weight: 1 ozs. with battery
Battery type: 2 x CR-2032
Applications:
Emergency locator beacon
Personal ID Marker Light (be seen by others)
Child / Pet locator beacon
Camping / Outdoors light
Hunting light for marking game, trails & blinds
Walking & Jogging positive ID light
Home / Office Power Outages light & signal beacon
Auto Breakdown light & signal beacon

This product is guaranteed to be free of manufacturing defects for a period of one year. Should the product fail for any reason other than abuse or battery expiration, return it to: Adventure Lights 444 Beaconsfield Boulevard, Suite 201 Beaconsfield, Quebec, Canada H9W 4C1 for free repair or replacement.