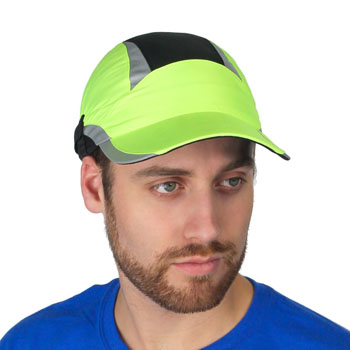 Brooks Running LED Reflective Hat in NightLife Neon Yellow. The Nightlife reflective hat has the capability to have a continuous or blinking mode setting. It is updated with even more retro-reflectivity, a perforated bill and a flat LED light to keep you visible in any situation. Its removable battery pack -- which uses one CR2032 Lithium 3V battery -- makes it easy to replace batteries and wash your hat.
Features:
Two lighting modes (continuous and blinking)
Easy access replaceable battery
Woven wind and water resistant fabric
360 degrees of 3M™ Scotchlite™ retro-reflective detail
Adjustable back closure for perfect fit
Fit: Adjustable
To change the battery in the NightLife hat, or remove it for washing:
Slide the battery pack out of the pocket on the side of the hat.
Gently unplug the wire from the battery pack. The hat is now machine washable.
With your thumbnail, loosen the top edge of the battery pack and pull it open. The battery is attached to the top.
Replace with a new CR2032 Lithium 3V battery.
Slide the top of the battery pack back into the pack until it clicks.
Reattach the wire and slide the battery pack back in the pocket of the hat.
One year warranty against defects in materials and workmanship. Warranty does not cover normal wear and tear.