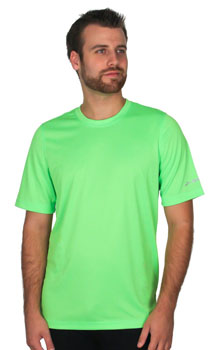 Brooks Running Mens Podium Short Sleeve Shirt. The Podium Short Sleeve Shirt comes in fluorescent colors to enhance visibility for outdoor activities in low light conditions. The 'be cool' fabric transfers moisture away from the skin, keeping you dry and cool for a comfortable workout. The ultimate technical basic T is suitable for teams, events, and training clubs. Constructed from incredibly lightweight, breathable fabric engineered for maximum moisture management to beat summer heat; a must-have for any athlete.
Features:
100 % moisture-transfer technical fabric
Lightweight and breathable
Flat-seam Construction
Easily screen printed
Fabric: Be Cool (65° and above) Podium Mesh (100% moisture-transfer polyester)
Fit: Relaxed
Need help with sizing? Go to Brooks size chart.
One year warranty against defects in materials and workmanship. Warranty does not cover normal wear and tear.