Brooks Shelter Fabrics: Take shelter from rain showers (everywhere you go).
Spring brings showers and winter brings sleet, and we all know that summer brings heat! Brooks brings us advanced fabric technology to build the garments that protect you from these elements and more. Shelter solutions are wind-proof and water-resistant yet lightweight and breathable fabrics that help regulate body temperature so you don't overheat. From jackets and vests to tights and shorts you can get the protection you need to keep running all year round. Shelter solutions include the L.S.D. Lite Jacket III, the Nightlife Jacket III, the Essential Run Jacket and Vest or the Silver Bullet Jacket. Need all over coverage? Try the Silver Bullet Wind Pant or the Essential Run Pant and don't forget Adapt Gloves to keep your hands warm and dry.
SHELTER LITE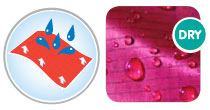 Water-resistant and wind-proof
Lightweight, breathable fabric
L.S.D. Lite Jacket weighs just 4oz.
AIREPLEX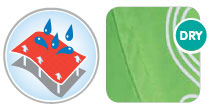 Extremely water-resistant and wind-proof
Lightweight, durable fabric
Coated with Durable Water Repellent
Brooks Equilibrium Fabrics: Achieve thermal enlightenment (with every step you take).
Equilibrium fabrics bring balance and energy to your run allowing you to get the most out of your workout. Great for spring through fall, equilibrium garments keep you thermally balanced and dry by wicking away moisture and moving heat to the surface. HVAC Synergy, Epiphany and Revalation fabrics are designed to keep you cool and provide UV protection all summer long. Vapor-Dry Plus fabrics are super soft and engineered for warmth and weight to provide that perfect balance when temperatures cool off.
HVAC SYNERGY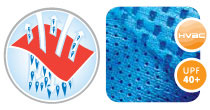 Soft, lightweight zone-engineered
UV protection rated UPF 40+
Antimicrobial silver fibers disperse heat
Contains X-STATIC®, The Silver Fiber™
VAPOR-DRY PLUS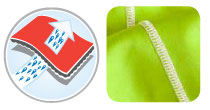 Perfect balance of warmth and weight
Excellent moisture management
Super-soft feel, fluid movement
EPIPHANY/REVELATION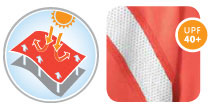 Soft feel with fast moisture-transfer
Flat-seam construction
UV protection rated UPF 40+