Hot Dots with light
reflecting from them
Reflective 1 Inch Adhesive Vinyl Hot Dots - 352 Dot Sampler Pack.
NOTE: These are not glow in the dark dots, they are reflective dots.
You are buying one 32 dot count sheet of all 11 colors for a total of 352 Dots.
Our 1" Vinyl "Hot Dots" are made of a polymeric film that is flexible, tough, "UV stabilized", and weather resistant. Encased in this film are micro-prism elements that reflect light to increase visibility. We've put them through a test and found that these are extremely hard to tear! They also go back to their original shape after being stretched! See the picture below which shows a close up view of the prism elements which is woven into the polymeric film. These reflective stick ons dots can be used for safety markings, to bring attention to building corners and mail boxes, and decorative purposes. Our Reflexite Hot Dots are available in 11 colors that retro-reflect even when wet! These are extremely durable, can be written on with a permanent marker, and can withstand much indoor and outdoor atmospheric abuse.
Colored Dots are ideal for color coding and for enhancing or highlighting objects when in a low light condition. See the image on the Right of how our Hot Dots reflect with a handhel flashlight! Put Hot Dots on helmets, backpacks, school bags, safety belts, signs, anywhere you need visibility. Ideal for marking paths to bring attention to potential hazardous areas. Great for mail box and route ID. Use them to create lanes, aisles and escape routes. The list of uses goes on and on!
Our 1" reflective hot dots are available in various sizes:
Our 1" reflective hot dots are available in 11 colors: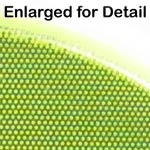 White Dots
Yellow Dots
Orange Dots
Red Dots
Blue Dots
Green Dots
Fluorescent Red Orange Dots
Fluorescent Lime Yellow Dots
Fluorescent Green Dots
Fluorescent Pink Dots
Fluorescent Orange Dots
100% Satisfaction Guaranteed