Brooks Running knows that more runners are starting after work, or during the early morning to get their running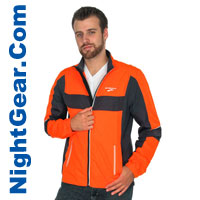 schedule met. Reflective running clothes becomes a necessity for running at twilight with dusk's low visibility. To be seen at night requires a full range of night reflective apparel, and Brooks Running can outfit your running club with running jackets, tights and safety vests that are in bright colors and also have 360° reflectivity. Created for the needs of a runner, these running clothes have moisture wicking fabric to help remove the moisture from your skin so you will maintain temperature, and mesh vents to assist in air breathability. Add the slim fitted zip pockets and cozy cuffs with thumbholes, and internal moisture proof media pocket, you have stylish running gear that reflects your motion during your low light and night running.
Reflective Night Gear gives you visibility as you are dusk running so the cars will see your reflective running clothes and leave a safety zone around you while you are running during the dusk. Brooks Running Clothes are designed to be reflective in low light situations. The better the reflective clothing and the more reflectivity you display will make you safer in the running and training that you do before and after work hours.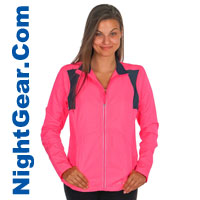 Bright Orange, Neon Yellow NightLife and Bright Pink or Green are colors that will get you noticed and keep you safe. While you are being noticed because of the bright colors and reflective detailing, make sure you are appreciated fully by wearing the sensational and stylish clothing by Brooks Running Clothes. Flattering, distinctive and slimming, with extra amounts of comfort added in, Brooks Running Clothes were designed by fellow runners who understand the special needs that runners have. These stylish running jackets, vests and tights combine fashion detailing with reflective safety features. Reflective Night Gear by Brooks Running is great for your running club, and cycling group, too.
Recent Posts
Safe Night Running is the responsibility of the runner. The person who loves to run in the evening o …

Knowing what to look for in reflective safety apparel will make a difference in just how effec …

Brooks Running knows that more runners are starting after work, or during the early morning to get t …