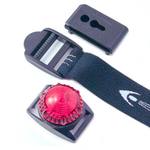 As the temperatures warm as we head into Summer, some of the more vigilant among us often choose to switch up their running routine to be completed at night or during the very early morning in order to avoid the heat of the sun. Though it makes sense, running at night presents its own set of dangers. According to the National Highway Traffic Safety Administration, 69,000 pedestrians are struck by cars every year with a bulk of those accidents happening in low-light situations. If you look forward to running during the warmer months, protect yourself by avoiding these common mistakes.
Running with traffic. Running on the opposite side of the street and facing oncoming traffic is safer as it allows you to fully observe the traffic situation surrounding you. Being able to fully assess and react to situations quicker can literally save you life.
Shuffling your feet. Pick up your feet while running. Not only will you exercise your muscles more, shuffling your feet along the ground increases the possibility of tripping over uneven ground or an unseen obstacle.
Wearing headphones. Just as running with your back to traffic, wearing headphones at night cuts off your ability to hear and assess the possibility of danger.
Not letting someone know where you will be. Making sure that someone knows where you'll be running and when you expect to be back can protect you in case of an emergency as response time to your absence should be faster.
Not being seen. Running in low light requires that you are able to be seen anywhere. Wear reflective apparel to reflect the light from oncoming vehicles and make you visible. Blinking lights that attach to your apparel are also a smart choice.
Not being able to see. Make sure that you can see what lies in your path before you get there with a small flashlight or a headlamp.
The core of our business is helping to protect you and your loved ones from the dangers of running in low-light conditions. Offering highly visible reflective clothing online alongside headlamps, bike lights, flashlights and lanterns online, NightGear works to protect as many of us both day and night.
Recent Posts
Safe Night Running is the responsibility of the runner. The person who loves to run in the evening o …

Knowing what to look for in reflective safety apparel will make a difference in just how effec …

Brooks Running knows that more runners are starting after work, or during the early morning to get t …