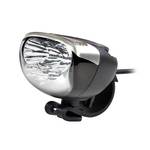 According to the Insurance Institute for Highway Safety last year alone, over 122,000 runners, walkers, and cyclists were hit by cars. Unless you can workout during your lunch time, if you walk, run, bike, or skate, you are likely to spend at least some of your exercise time in darkness.
Collisions with cars and bikes happen on a much more regular basis then we would like them to. Almost half of fatal crashes involving runners occur between the hours of 6pm and midnight. The reality is that for people who work it is hard to exercise during the daylight hours only. Here are a few safety tips to help make sure that you don't become a statistic.
Carry a reliable flashlight not only to see your way but to be seen by others.
If walking or running, stay on the side walk and always use the crosswalk. Avoid areas without sidewalks and crosswalks.
On a road always walk facing the traffic, always ride with traffic.
Prior to crossing the street make eye contact with the driver.
If possible don't run alone.
Don't wear headsets. Use your ears to be more aware of your surroundings.
Stay alert. The more aware you are the less vulnerable you become.
Bring a cell phone or whistle in case you fall and need help.
Carry identification or write your name, telephone number and blood type on the inside of your running shoe.
Wear high visibility or reflective clothing so you can be seen.
You can NEVER be too safe! While it is important to be seen by others you also want to make sure your path is well-lit for maximum visibility at night. There are many obstacles out there, vehicles are not the only threat to your safety. A well lit path can save you from tripping over debris or crashing into a sign. Headlamps offer a simple solution to making sure you see what's ahead of you. If you think a headlamp is an obstacle in itself you might want to take a look at the newest technologies that have developed some pretty efficient, lightweight lamps, I guarantee you won't even know it's there!
Remember that safety precautions should be used at all times. If something should happen to you use your head, stay calm and take care of yourself.
Recent Posts
Safe Night Running is the responsibility of the runner. The person who loves to run in the evening o …

Knowing what to look for in reflective safety apparel will make a difference in just how effec …

Brooks Running knows that more runners are starting after work, or during the early morning to get t …