With night time workplace accidents resulting in 130 deaths in 2012 alone, we recognize that what we do is o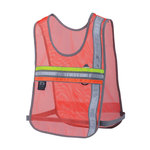 af the highest importance. The intent behind Night Gear is to keep our customers as safe as possible, by keeping them highly visible and offering the best reflective clothing online. But as altruistic as that intent is, we are simply the conduit for the superior manufacturers that we work with, to get their gear to those that require it on a daily basis whether for work or for play.
One of the most popular brands of high visibility workwear carried on our online store is Helly Hansen. Started by Helly Juell Hansen almost 130 years ago, manufacturing waterproof clothing for sailors, Hansen has grown to be the trusted source for the highest quality work and protective wear where functionality reigns as priority one. Helly Hansen places the utmost importance on the wearer's well-being and safety. Which is why we trust it enough to offer it to our customers. We know that brands like Helly Hansen engineer their high visibility work wear to be worn in the most extreme of conditions.
From fleece outerwear and padded jackets to high liner bibs and pants, Night Gear offers Helly Hansen high visibility work wear at the best prices and the best possible customer service online. We trust in manufacturers like Helly Hansen and we believe in it enough to add it to our reflective clothing collection online. If you should have any questions about any of the products you see on our site, please call us at 877-675-GEAR. We'd be more than happy to hear from you.
Recent Posts
Safe Night Running is the responsibility of the runner. The person who loves to run in the evening o …

Knowing what to look for in reflective safety apparel will make a difference in just how effec …

Brooks Running knows that more runners are starting after work, or during the early morning to get t …