What is high visibility pet wear is a question many pet owners are now asking to help keep their four legged friends safe at night. It is true that dogs and cats have very good vision at night but the cars and other night time cyclists and runners cannot see everything. For that reason it is prudent that a responsible pet owner equip their loved one with the right reflective night gear so others can see them in low light conditions.
For the pet owner that enjoys long walks at night with their dog there is a simple safety device that can help drivers of vehicles and others in your area to not only help see you but be aware you have a dog beside you. This safety device is a reflective dog leash. At NightGear you have a choice of color with these reflective leashes. There are the simple leashes that are equipped with High Vis material. This is a patented retro-reflective technology that is built into the material of the leash. I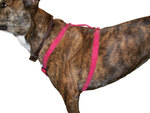 t has very small glass beads that reflect the light that hits it and reflects it back in the same direction of the light source. With this safety device any vehicle with lights including bicycles and cars will cause their own lights to be shined back at them so the connection between you and your dog is visible to them. This way they will be aware there are two living creatures ahead of them that should be avoided.
Other items that have this reflective material in and on them include the Fido Dog Reflective Jacket that lies on the back of your dog so there is a bigger area of reflective material to reflect the light back to its source. There are also Hi Viz dog collars and Reflective dog harnesses equipped with this safety material. The last type for the cool dog is the reflective bandana. They come in red, orange blue or black. The right one for your dog depends on its personality and mood. All of these safety items have illuminite reflective material built into them so they will become visible to others in diminished light situations.
There is also the Nite Dawg LED leash. This safety device uses two types of technology to ensure you and your pet are seen in diminished light situations. It has a passive reflective strip to help reflect the light that hits it back to its source. The second type it is equipped with are LED lights that are situated for 3½ feet of the 5 feet of the leashes length. The red LEDs are encased in a polymer tubing to protect it from the weather and allow it to be flexible. The lights can be seen by others around you up to 1,000 feet and can be placed in a flashing mode or steady glow. The power source is a single flat lithium battery that can last up to 200 hours of usage.
You can flash the location of your dog with the Adventure Lights Guardian LED Dog Light that is made in Canada. This is a light that flashes or can give a steady beacon of light. Also, The Pet Lite LED Dog Collar light has a small paw print on the surface, and hangs from your pets collar. This one is good for cats or dogs.
So, be visible, and be safe by having your pet wear Hi Visibility reflective night gear.
Recent Posts
Safe Night Running is the responsibility of the runner. The person who loves to run in the evening o …

Knowing what to look for in reflective safety apparel will make a difference in just how effec …

Brooks Running knows that more runners are starting after work, or during the early morning to get t …